日本語 / English
こちらの商品は海外のみの販売になります。
This item will be sold only in Japan.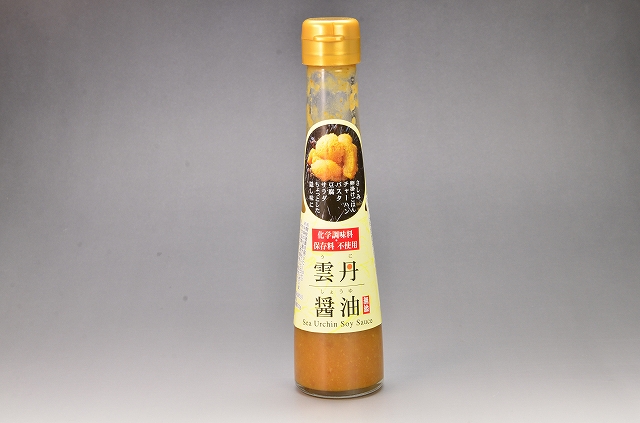 商品名
無添 雲丹醤油 120ml
Product Name
Sea Urchin Soy Sauce (All natural, No additives) 120ml
商品特徴・利用シーン
雲丹を使った醤油として、国内でも大人気の雲丹醤油。試行錯誤の末、おいしさそのままで化学調味料・保存料無添加を実現できました。これまで同様、卵かけごはん・パスタ・お刺身・しゃぶしゃぶのたれ等、様々な料理にご使用いただけます。
Product Characterristics / Use Scenes
The soy sauce using sea urchin as a special ingredient has gained great popularity in Japan. Now after many attempts we have succeeded to create a new product with the same great taste, using all natural ingredients. This soy sauce will go well with many dishes just like before, such as, egg over hot rice, pasta, Sashimi, dipping sauce for Shabu-Shabu, to name a few.
| | |
| --- | --- |
| JANコード | 4906164 660738 |
| 賞味期限 | 240日 |
| 内容量 | 120ml |
| 国内販売価格 | 1,200円(税抜) |
| | |
| --- | --- |
| JAN Code | 4906164 660738 |
| Best-before | 240days |
| Net Volume | 120ml |
| Price in Japan | Y1,200 (+ sales tax)/pkg. |