日本語 / English
こちらの商品は海外のみの販売になります。
This item will be sold only in Japan.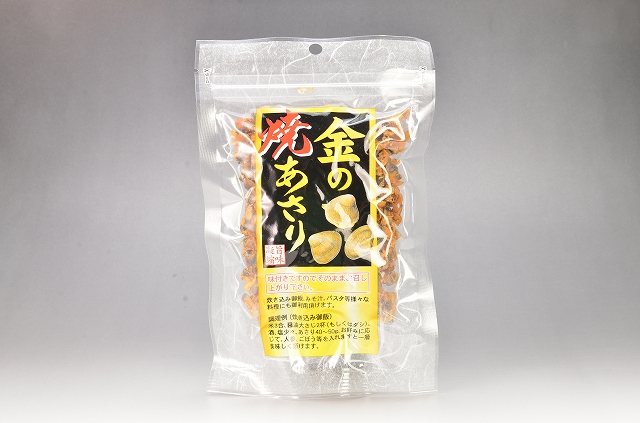 商品名
金の焼あさり 80g
Product Name
Roasted ASARI Clams (short-neck clams) 80g
商品特徴・利用シーン
味付けしたあさりを乾燥し、そのまま食べられるようにしました。貝の旨みが凝縮されているので、炊き込みごはんやスープ、パスタなど様々な料理にご使用いただけます。
Product Characterristics / Use Scenes
Flavored ASARI clams are roasted golden-brown and dried, so they are ready to eat. The umami of the shellfish is condensed and trapped inside, which makes it also good to use them as ingredients for cooking rice, soup, pasta and other variable dishes.
| | |
| --- | --- |
| JANコード | 4906164 658926 |
| 賞味期限 | 180日 |
| 内容量 | 80g |
| 国内販売価格 | 500円(税抜) |
| | |
| --- | --- |
| JAN Code | 4906164 658926 |
| Best-before | 180 days |
| Net Volume | 80g |
| Price in Japan | Y500 (+ sales tax)/pkg. |