日本語 / English
こちらの商品は海外のみの販売になります。
This item will be sold only in Japan.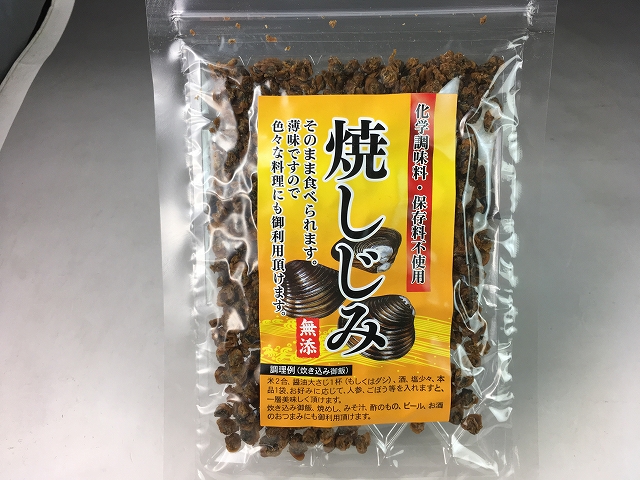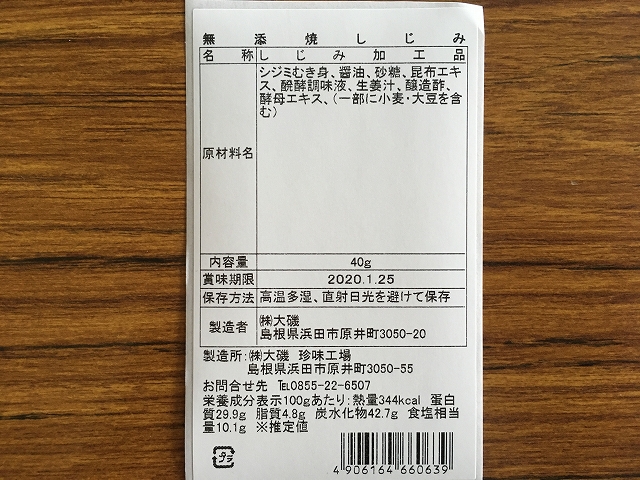 商品名
無添 焼しじみ 40g
Product Name
Flavored and Roasted SHIJIMI Clams(Additive-free)
商品特徴・利用シーン
味付けしたしじみを乾燥し、そのまま食べられるようにしました。おつまみはもちろん、みそ汁や酢の物、炊込みごはんにご使用いただけます。化学調味料・保存料不使用です。
Product Characterristics / Use Scenes
Flavored SHIJIMI clams are roasted and dried, so they are ready to eat. It can make an excellent snack, and also makes a good ingredient for miso soup, Japanese style vinegar salad, as well as a delicious addition when cooked together with rice. No additives/ preservatives are used.
| | |
| --- | --- |
| JANコード | 4906164 660639 |
| 賞味期限 | 180日 |
| 内容量 | 40g |
| 国内販売価格 | 400円(税抜) |
| | |
| --- | --- |
| JAN Code | 4906164 660639 |
| Best-before | 180 days |
| Net Volume | 40g |
| Price in Japan | Y400 (+ sales tax)/pkg. |