日本語 / English
こちらの商品は海外のみの販売になります。
This item will be sold only in Japan.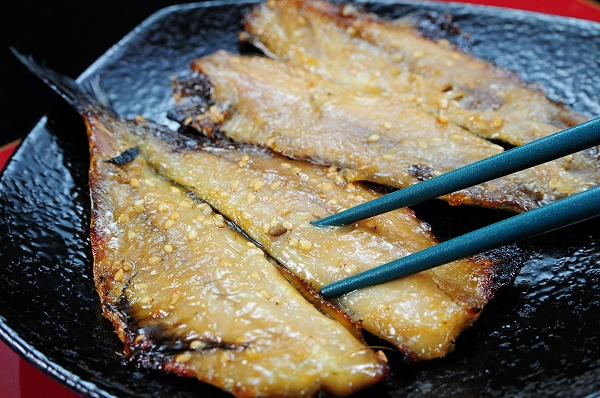 商品名
いわし味醂干し
Product Name
Dried Sardine seasoned with MIRIN
商品特徴・利用シーン
国内で水揚げされるマイワシを食べやすい様に頭と中骨を除去した後、当社独自の甘みのある味醂調味液に漬け込み冷風で干し上げました。ふっくらとした食感に甘みがしっかりと入った昔ながらの味醂干しです。
Product Characterristics / Use Scenes
The sardines were unloaded at a Japanese port. The fish were cleaned by removing the head and bones, marinated in the mixture of Mirin(sweet Sake) and soy sauce of our own special recipe and then dried by blowing cool air. This product is typical dried fish familiar with many Japanese; the meat is fluffy with a full-bodied sweetness.
| | |
| --- | --- |
| JANコード | |
| 賞味期限 | 365日 |
| 内容量 | 210g |
| 国内販売価格 | 400円(税抜) |
| | |
| --- | --- |
| JAN Code | |
| Best-before | 365 days |
| Net Volume | 210g |
| Price in Japan | Y400 (+ sales tax)/pkg. |